Aura Satz: SOUND ORNAMENTS IN THE MUSIC ROOM
SOUND ORNAMENTS IN THE MUSIC ROOM
a film by AURA SATZ
Tatton Park Biennal
12 May - 30 September 2012
Tatton Park Biennal
Tatton Park
Knutsford
Cheshire WA16 6QN
Tel +44 (0)1625 374400
info@tattonparkbiennial.org
www.tattonparkbiennial.org
Commissioned as a site-specific response to the Mansion for the 3rd Tatton Park Biennal 'Flights of Fancy', 'Sound Ornaments in the Music Room' transforms the varied patterns and ornamentations in the Music Room, Library, on the harpsichord and square piano into a filmic notation of sorts. Hypnotic sequences of geometric and biomorphic forms will hover between indecipherable abstraction and a musical script. Extended close-up tracking shots of the elaborate ornaments will create a visual score, to which composer Larry Goves will create a new musical composition. Working with the expertise of Professor Jeanice Brooks from the University of Southampton, the project draws inspiration from one of Tatton's previous residents, Elizabeth Sykes (1777-1853), and her vast collection of music.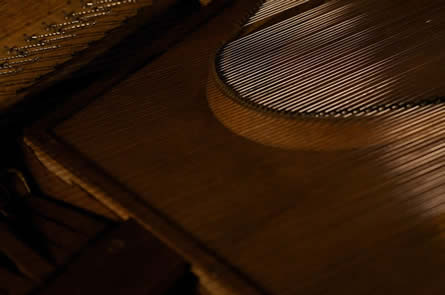 'Visual Score' Tatton Park Biennal special closing performance
29 September 2012 4.30pm
Programme curated by Jeanice Brooks, University of Southampton

Jane Chapman, contemporary harpsichordist extraordinaire, joins forces with guitarist Tom McKinney, pianist Harvey Davies and the Ensemble Pleyel for an extravagant ending to the 2012 Tatton Park Biennial, Flights of Fancy. Taking inspiration from the Music Room installation by Biennial artist Aura Satz, the musicians treat the entire house as sounding frame for an exploration of new and old musical fantasy. The programme features 'Visual Score', a new collaboration between Jane Chapman and Aura Satz, and world premieres of works by composers Larry Goves and Leo Grant, as well as eighteenth-century music from Tatton Park's outstanding historic musical collection.
http://events.tattonpark.org.uk/
'Visual Score' was included in the Group exhibition 'Pre owned: Looks Good Man'
curated by Morgan Quaintance
14 March - 19 April 2014
Cell Project Space, London
258 Cambridge Heath Rd
London E2 9DA
Tel 020 7241 3600
http://cellprojects.org/pre-owned-looks-good-man