Aura Satz: DUET
DUET
Duet performance
17th March 2011
New filmic performance works using acoustic devices such as a Chladni plate, a flame manometre, stroboscopic records and vintage self-hypnosis tracks. Barbican Gallery, London
Silk Street, London EC2Y 8DS
020 7638 4141
www.barbican.org.uk
Aura Satz's Duets are brief conversations with acoustic devices that explore sound visualisation, amplification, and reproduction.
Part 1. Vocal performance using a sound sculpture with hearing trumpets, emitting the 5 vowels sounds to create harmonies and overtones.
The sound sculpture features the voice of Mikhail Karikis.
Part 2. Spoken word with a flame manometre.
This acoustic device is a primitive oscillator of sorts, demonstrating pressure variations in sound through the stroboscopic reflection of a flame in a rotating mirror.
Part 3. Performance with Chladni plate.
This acoustic device visualises the vibration patterns created by different sound frequencies.
Part 4. An interlude on a self-playing accordion.
Part 5. Evoking visual echoes between pre-cinematic devices, the stroboscopic modes of the turntable, Brion Gysin's flickering dream machine and the microscopic views of record grooves, the performance uses a vintage self-hypnosis recording to induce a mesmeric mindset.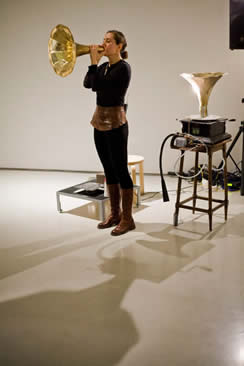 Aura would like to thank Mihai Rusu, Danielle Chinn, Miranda Gavin, and the London Consortium